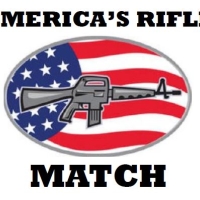 SPECIAL NOTICE:  If you were registered for the February match that was cancelled due to weather conditions, and if you did not request a refund, then you are already registered for the March match.  DO NOT REGISTER AGAIN!
The AR Events are designed for all skill levels from novice to competitive marksman using modern sporting rifles.  Open sights, red dot optics, and magnified scopes are welcome as well as short barreled and suppressed rifles.  This includes ARs, AKs, or any other semiautomatic rifle that accepts detachable magazines.  Acceptable calibers include 223/5.56, 300 BLK, 6.5 Grendel, 6.8 SPC, and 7.62x39.  We do not allow 308 caliber and larger, or any steel core ammo (i.e. green tip). If you are unsure if your rifle will fit in, please contact This email address is being protected from spambots. You need JavaScript enabled to view it.
Matches are from 7:30AM to 03:00PM and will follow specific rules available via the link below.  Participants are expected to read and understand these rules prior to showing up for the event.
Registration opens on Thursday one week before the match and ends on the Thursday before the match.